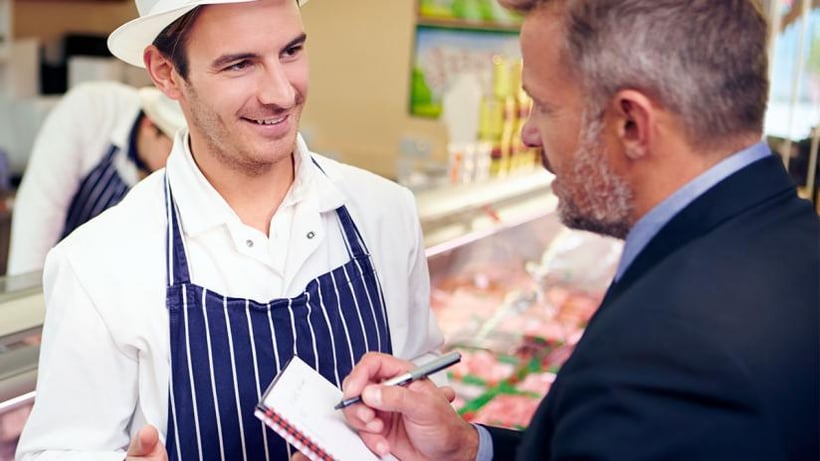 November 25, 2021
Food businesses are required by law to go through routine health inspections to help minimise food safety risks and ensure the food they produce, sell or serve are safe for human consumption. These health inspections, also called "food safety inspections," are conducted by Environmental Health Officers (EHOs).

Although health inspections can lead to infractions, fines and even business closure if food safety standards are not met, the purpose of these audits is actually to help the business, not close it! Working collaboratively with the EHOs who conduct inspections at your business will help improve the organisation's food safety practices and ultimately protect the public from food safety hazards.
Why do EHOs visit food businesses?
There are a few reasons an EHO may visit a food business, including:
performing routine inspections of a business's food safety practices
investigating a customer complaint or reported food safety problem, including allegations of food-borne illness outbreaks and product mislabelling or misinformation
following up on a previous inspection
monitoring compliance with food safety legislation
educating and providing advice on following food safety laws and standards
commencing enforcement action through penalty notices, prohibition orders or prosecutions
No matter the reason, EHOs are there to ensure proper food safety practices are followed. This is an opportunity to gain a better understanding of the rules and regulations in your area, and implement any updates to your food safety processes as needed.
How to interact with EHOs during an inspection
The on-duty Food Safety Supervisor (FSS) or Food Manager should be alerted once an EHO arrives at the business. It's acceptable for the FSS to confirm the EHO's credentials, determine whether the visit is for a regular inspection or they are responding to a customer complaint, and accompany the EHO during the inspection. Regardless of the purpose, an inspection should never be refused or obstructed. It's also important not to offer the EHO any complimentary meals or beverages, as the gesture could be interpreted as a bribe.

The EHO will check all parts of your business to ensure that food safety protocols are in place, are being followed and are effective. They can conduct their investigation through:
observing on site
interviewing staff
requesting records and documentation
examining anything in or on the premises such as food, equipment and surfaces
sampling and testing to confirm the proper critical control points are met
seizing items such as food or equipment, if necessary
It's a great idea for the FSS to follow the EHO as they conduct their investigation. Throughout the process, the FSS should take time to:
take notes
ask for advice or clarification on specific rules and regulations
ask for tips on how to improve procedures and practices
Have an open, and not hostile, conversation with the EHO if they note a violation so that you understand how they came to their conclusion. This is an opportunity to learn from the EHO, and show that the business is dedicated to improving processes as new information arises.

The EHO will document their observations, determine whether the requirements are met and complete a report.
How to work with EHOs after an inspection
Once the inspection is completed, Food Safety Supervisors and managers should take some time to review the inspection report with the EHO. If your business has food safety breaches, be sure that you understand:
what the breaches are
the steps needed to correct the breach
the timeframe you have to implement the corrective action
It's actually quite common for EHOs to note minor breaches at a food business. These violations pose a lesser threat to public health, although they can become bigger issues if left unattended. Take this as an opportunity to improve your health and safety practices before an issue leads to a larger problem that may result in high costs for repair, hefty fines, damaged reputation and even business closure.

For critical food safety breaches, a business may be issued a Prohibition Order that requires the business to be closed until it is deemed safe.
Improving food safety in your business for the long-term
In addition to fixing food safety breaches, Food Safety Supervisors and managers should remember to:
update food safety processes based on feedback from the EHO
document the updated processes
train staff on the new procedures, and ensure they know who to ask or where to look if they need a reminder about the new information
stay in contact with EHOs as they are a great resource for food safety information
Even though health inspections may be stressful for a food business, it can actually be a great opportunity to make the establishment even better in the eyes of EHOs, regulators, employees and the general public. Working collaboratively with EHOs helps minimise food safety risks, improve your business reputation and increase profits.

Make sure that you are following the requirements to pass your health inspection, and also take the audit as a learning opportunity to pinpoint ways to improve your food business!
If you are looking for information on how to start a food business in Australia, here is what you need to know about food classifications, food licences and food safety requirements.