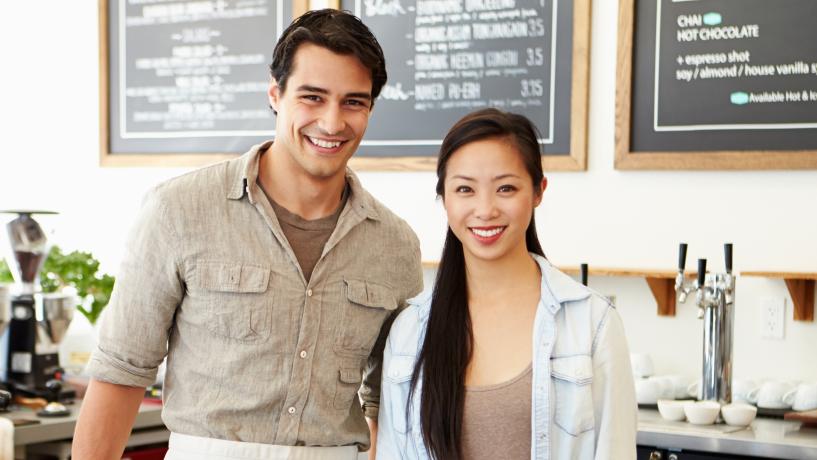 March 16, 2016
It's exciting to start your own business, to pick out the right location and to design your menu.
However, don't let the excitement get in the way of remembering everything else you need to do for your business to be legal.
Once you make the decision to start a restaurant or other food business, there are several steps you have to follow before you can legally begin to operate. These are designed to protect the consumer from foodborne illness, and also to make sure you're following the proper food business procedures.
Food Business Licensing
The first step you need to take is to get a proper business licence with your local council. There can be different rules and regulations depending on where your business is based, and the requirements around licensing vary. A simple rule to follow is that if your company will handle food that is for sale to customers, then you are required to notify the proper authority. This includes businesses such as:
Restaurants
Pubs
Cafes
Mobile food units
Hotels
Community organisations
Charities that handle and serve food
Other types of businesses that may require a food licence are:
Aged care facilities
Childcare facilities
Tour operators that prepare snacks for customers
Food processing companies
Food Business Classifications
Each state and territory in Australia has different classifications for food businesses. You will need to find out your food business classification to get the proper licence. Your local governing body will require that you provide this classification information. To find this out, you can visit the relevant website for where you operate. The main websites are:
For examples of food classifications, consider Victoria. The main types of businesses in each of the 4 classifications for Victoria are:
Hospitals, child services, meals on wheels, hospice, aged care centres.
Community groups, baby food manufacturers, bakeries, canned foods, juice bars, pasta manufacturers, salad manufacturers, beds and breakfasts, school or other group camps, canteens, caterers, fast food chains, mobile food units, prisons, restaurants, service stations, etc.
Low-risk bakeries, breweries, cereal manufacturers, confectionery makers, flour millers, honey processors, soft drink companies, water bottlers, cinemas, ice cream shops, convenience stores, low-risk service stations, fruit stands, wineries, etc.
Low-risk cinemas, pre-packaged confectionery shops, greengrocers, liquor shops, milk sellers, pharmacists selling packaged foods, vending machines and shops, tea shops, wine tasters, whole fruit greengrocers.
Handy hint: It's your responsibility to determine your business classification.
A New Build or Renovation
If you need to actually build your food premises or you have to do extensive renovations that will take some time before you can open, you still need to register as a food business. In fact, most local councils require that you register the premises itself well before you begin any construction. You will need to check with your local authority before you begin to build to determine if you need to register and if a food business is allowed within the planning zone.
Who Handles Your Licensing?
You will need to apply for a licence and registration with your local council. You will need to provide certain information, such as your food business classification, what types of food you will be serving, who will be receiving your food, whether or not your food is pre-packaged, who is your nominated food safety supervisor and more. Additionally, you will have to pay a fee and you will need to renew your licence once a year.
To find your local council and to determine what process they require for your licensing, visit the Australian Business Licence and Information Service. This site lets you search for your local information based on location and business type. Mobile businesses, such as a food truck, may need a food licence from the state instead of just the local authority.
Basic Training
Once you employ staff, you'll need to make sure they undergo the proper training for the workplace. This should cover basic training as well as food safety and food handling. It's a legal requirement in Australia that all employees who handle food must be trained in food safety. You have a number of options for this training:
Online nationally accredited training courses
Classroom-based nationally accredited training courses
Use of manuals to instruct staff
In-house training through a consultant
Food Safety Supervisors
For many states in Australia (NSW, VIC, QLD and ACT) it's mandatory to have a Food Safety Supervisor nominated on staff. This supervisor must have the proper training and certificates and must be registered before they can work in this position. You can either have one of your current employees trained to become a Food Safety Supervisor or you can hire an outside contractor depending on your own preference.
A Food Safety Supervisor must attend training delivered online or in a classroom through a Registered Training Organisation (RTO). The training must be specific to their food industry sector and state or territory. The food industry sectors are retail, hospitality, food processing, transport and distribution, and health and community. However, New South Wales only recognises the retail and hospitality food industry sectors, and only certain providers are registered to offer Food Safety Supervisor training in the state.
When you begin searching for your Food Safety Supervisor, a few things to consider are:
They should have proper training and certification.
They should understand their responsibilities to the business.
They should be willing and able to supervise your employees on food safety and personal hygiene.
They should be prepared to handle any noncompliance or negligence issues that arise.
You absolutely can't run your food business without a Food Safety Supervisor on staff. You aren't required to have more than one, but if you're open long hours, then it may be a good idea to have more than one so that you can meet the requirement of having a Food Safety Supervisor contactable at all times.
This employee will be responsible for ensuring all food safety codes are followed in the day-to-day operation of your business. They may have to address problems and work to properly train your employees. That means you need to leave this responsibility in the hands of someone you feel that you can trust.
But, do keep in mind that not all of the food safety responsibility falls to your Food Safety Supervisor. Your staff need to be well-trained in food safety too. Some businesses choose to put their staff through a nationally recognised Food Handler course to meet this requirement.
Food Safety Requirements
You're required by law to comply with all food safety regulations. This can affect how you build or style your business as well as how food is handled when the establishment is in operation. The Food Standards Code is available to you at no charge through the Food Safety Authority Australia and New Zealand (FSANZ), which can be found on their website.
You also need to develop a Food Safety Program based on HACCP principles. This document needs to be updated regularly and must be kept on the premises of the food business. Your Food Safety Program could be audited at any time and if you're not complying with all food laws and regulations, then you could be fined or face more severe punishment.
The Steps in Review
Now that you have learned about getting your food business started, let's review the steps:
Determine if you need to be registered and licensed.
Find out what your food business classification is.
Contact your local authority to register your business premises, pay any fees, and fill out the required paperwork.
Determine what other licences or permits you're required to have to operate.
Implement a Food Safety Program and show proof to your local authority
Hire or train a Food Safety Supervisor.
Getting started with your food business is fun and exciting, yet also stressful. Ensure that you follow the proper steps outlined in this document before you can start operating. Once you have all this in place, you will need to pass regular food inspections, stay up-to-date on new food safety laws, and be prepared for any random audits by Environmental Health Officers (EHOs).
If you have questions, be sure to contact your local council or state authority, or check our FAQ page for more information.