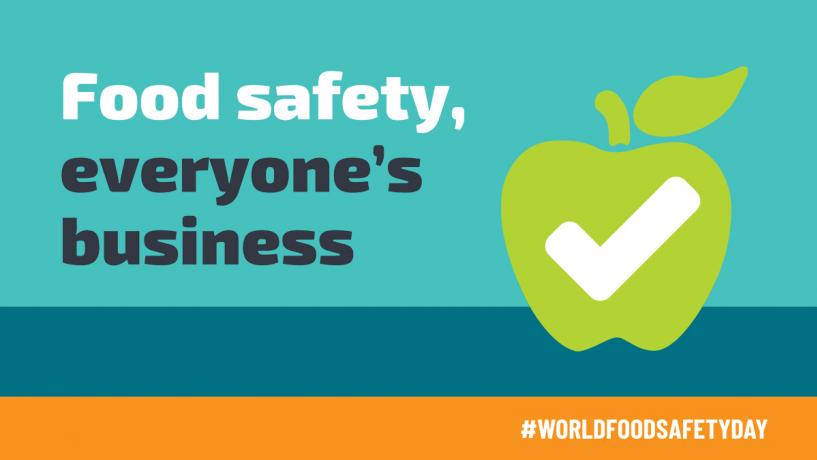 June 6, 2020
Sunday June 7th marks the second annual World Food Safety Day. The theme of this World Food Safety Day is 'Food Safety, Everyone's Business' and aims to highlight the shared responsibility we all take in ensuring that food is safe to consume from farm to fork.

World Food Safety Day is an initiative led by the World Health Organization (WHO) in collaboration with the Food and Agriculture Organization of the United Nations (FAO).
Food-Borne Illness Around the World
Food safety continues to be a global issue. The WHO estimates that 600 million people fall ill and 420,000 die every year from food-borne illness. Forty percent of these deaths are children under 5 years old.

Recent estimates indicate that food-borne illness costs low and middle income economies alone around $95 billion in lost productivity each year.

Australia is not immune to this problem. Approximately 1 in 5 people in Australia suffer from food-borne illness every year. Over 30,000 people are hospitalised and between 80-90 people die.
Food Safety, Everyone's Business
The theme of this World Food Safety Day demonstrates that everyone has the right to safe, nutritious and sufficient food. The responsibility of providing safe food is shared between governments, producers, businesses and consumers.

There five calls to action associated with World Food Safety Day are:
Ensure it's safe
Grow it safe
Keep it safe
Eat it safe
Team up for safety
1. Ensure it's safe
The 'Ensure it's safe' call to action highlights the need for governments to ensure that there is safe and nutritious food available to all. National and local food authorities can enforce policies to manage food safety risks along the entire food chain, including during emergencies. The Codex Alimentarius Commission sets international standards for food safety which many countries choose to comply with.
2. Grow it safe
This call to action refers to the need for agriculture and food producers to adopt good food safety practices. Farmers need to balance the production of a sufficient supply of safe food with mitigating climate change and minimizing future environmental impacts of their practices.
3. Keep it safe
The 'Keep it safe' call to action calls on all business operators from food processors to food retail to ensure compliance with food safety programs based on HACCP principles. The focus should be on preventive controls - stopping food safety issues before they occur.
4. Eat it safe
This call to action falls on consumers. Consumers need to be able to make healthy food choices for themselves and to be able to support sustainable food practices. This happens by providing consumers with timely, clear and reliable information about the nutritional and disease risks associated with their food choices.
5. Team up for food safety
This call to action applies to everyone and emphasises the need for governments, regional economic bodies, UN organizations, development agencies, trade organizations, consumer and producer groups, academic and research institutions and private sector entities to work together to ensure food safety.
About the Australian Institute of Food Safety
At the Australian Institute of Food Safety (AIFS), our mission is to decrease food-borne illness in Australia by educating, advocating and promoting food safety.

We provide thousands of Australian food workers, business owners and operators with the food safety training and resources they need to protect their customers and businesses from serious incidents like food poisoning and food allergies.

To learn more, contact the Australian Institute of Food Safety.