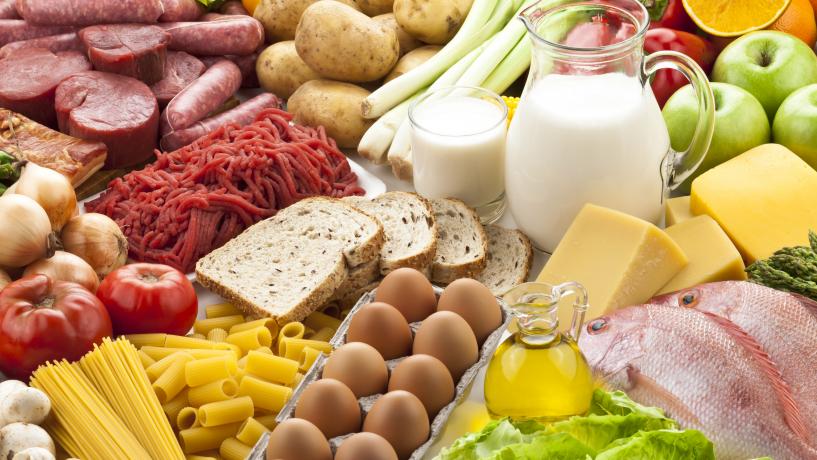 July 26, 2019
Despite the increasing focus on healthy and safe food in Australia, there are still plenty of misconceptions about food safety and safe food handling practices out there. To help clear things up, we've compiled a list of the top 10 food safety myths (and the truths we should replace them with).
Top 10 food safety myths
1. COOKED FOOD CAN'T CAUSE FOOD-BORNE ILLNESS
It's true that properly cooked food — that is, food that has been cooked to the minimum required temperature required to kill bacteria, viruses and other microorganisms that can cause food-borne illness — is unlikely to cause food poisoning, but there are plenty of ways that cooked food can become contaminated after cooking.

This can happen if:
food isn't stored properly
food is prepared on a contaminated surface or using contaminated equipment
Food Handlers don't practise good personal hygiene
Food Handlers aren't trained to prevent cross-contamination
Certain bacteria, such as Staphylococcus aureus, also produce toxins that aren't destroyed by high temperatures. If food is contaminated with bacterial toxins, cooking the food may kill the bacteria, but the toxins will remain in the food.
2. IF IT LOOKS AND SMELLS FINE, IT'S PROBABLY FINE
Spoilage microorganisms (bacteria, moulds, yeasts) can change the look, texture, flavour or smell of food, so it's easy to tell if the food has gone bad. Pathogens, on the other hand, generally do not cause food spoilage and they are odourless and tasteless, so you can't tell when food is contaminated with them.

Pathogens are disease-causing microorganisms like bacteria, viruses, parasites and some moulds. The most common food-borne pathogens in Australia are Salmonella, Listeria, Norovirus, Campylobacter and E. coli 0157.
3. IF YOU CUT OFF THE MOULD, THE REST OF THE FOOD IS SAFE TO EAT
Many people think that if you cut or scrape the mould out of food, the rest of the food is safe to eat; the colourful patches of mould you see on the surface are actually just the tip of the iceberg.

Like plants, moulds produce thread-like roots that extend deep into the food. Most mould found on food products is harmless, but some moulds can produce mycotoxins, which are toxic to humans and can cause serious illness.

Foods that are most at risk include:
grains and grain products (many mycotoxin types)
peanuts, nuts and pulses (aflatoxin)
milk and milk products (aflatoxin)
Aflatoxins are particularly potent and have even been linked to long-term health issues like cancer and immune deficiencies.
4. IT'S OK TO THAW FROZEN FOOD AT ROOM TEMPERATURE
Frozen food should never be thawed at room temperature or in a warm water bath. High-risk foods must be kept out of the Temperature Danger Zone (5°C–60°C), as this is the temperature range in which dangerous bacteria thrive. In fact, bacteria are among the fastest reproducing organisms in the world, doubling every four to 20 minutes.

Freezing doesn't actually kill bacteria, which means that as your food thaws, bacteria can wake up and multiply. The safest way to thaw frozen food is in the refrigerator, so plan ahead and give it plenty of time.
5. DEHYDRATED FOODS AREN'T HIGH-RISK
Bacteria need the following to grow:
food that is high in protein
low acidity (pH)
moisture
When you add water to dried foods (e.g. rice, pasta, lentils, beans, chickpeas) during the cooking process, you give them the missing ingredient they need to grow. With time and at the right temperature, the number of bacteria can easily reach harmful levels.

Uncooked rice may also contain Bacillus cereus spores, which are not destroyed by the cooking process. If rice is not refrigerated immediately after cooling, B. cereus spores can grow into bacteria and multiply.
6. YOU SHOULD WASH RAW CHICKEN BEFORE COOKING IT
Washing raw chicken before cooking it A) does not remove the bacteria and B) can actually increase the risk of food poisoning. Splashing water from rinsing raw chicken under a tap can spread bacteria to hands, food preparation surfaces, cooking equipment and utensils. In fact, water droplets can travel more than 50cm in every direction.
7. FOOD SHOULD BE LEFT TO COOL COMPLETELY BEFORE GOING IN THE REFRIGERATOR
While it's true that putting hot food in your refrigerator can cause the overall temperature inside to rise (which is not good for any of the food in there), waiting for hot food to completely cool at room temperature before putting it in the fridge means that you're giving bacteria in the hot food time to grow.

The best and safest way to cool your leftovers is to refrigerate them in shallow, uncovered containers once they've stopped steaming. Be sure to avoid overstocking your refrigerator to allow cool air to circulate.
8. VEGANS CAN'T GET FOOD POISONING
Anyone can get food poisoning, whether they eat animal products or not. Many of us associate food poisoning with foods like meat, eggs and seafood, but plants and plant-based foods can easily become contaminated with bacteria, viruses, parasites and naturally-occurring toxins.

Many vegan-friendly foods are also served raw or lightly cooked, such as tofu, which means they aren't subjected to the high temperatures that kill bacteria. Vegans are also just as likely to get sick from food poisoning caused by cross-contamination. Find out more about vegan food poisoning risks.
9. IF YOU PICK IT UP WITHIN FIVE SECONDS, FOOD DROPPED ON THE FLOOR IS SAFE TO EAT
Better known as the 5-second rule, this infamous rule states that if you drop a piece of food on the floor but pick it up within five seconds, it's still OK to eat.

We're sorry to say that it simply doesn't work that way. If food drops onto a surface with bacteria, then bacteria gets onto the food; five seconds has been proven to be ample time for bacteria to transfer to food.

Something that can affect the likelihood of getting food poisoning from eating something off the floor is moisture. If the food is dry (e.g. boiled sweets) and the floor is dry, it's less likely that you'll get a bug than if you ate ice cream off the carpet or a damp floor.
10. FOOD POISONING IS JUST AN UPSET STOMACH
Symptoms of food poisoning usually include some combination of the following:
diarrhoea
nausea
fever
vomiting
stomach cramps
Although most cases of food poisoning are mild and last only a day or two, some can be far more serious or even deadly. Vulnerable people — those in "high-risk groups" — are far more likely to contract a food-borne illness and to suffer more severe symptoms.

Young children, the elderly and people with immune system disorders are among those most likely to die from food poisoning; pregnant women are 20 times more likely to contract listeriosis, an infection caused by the bacterium Listeria, which can cause miscarriages, stillbirths, preterm birth, infant mortality, blood poisoning or brain infections.

Thankfully this is rare, but with more than four million cases of food poisoning in Australia each year, a few simple actions can cut the risk of food poisoning significantly.
Food safety training
Food businesses need to be extra careful when it comes to food safety, as their policies, procedures and the actions of their employees can affect the health and safety of the public.

When you're cooking for yourself and you get sick, the consequences are your own. When you work in a business cooking food for others, food safety mistakes can have serious consequences for customers, the business and yourself.

It's important that Food Handlers know about the health hazards that exist in the business they work in and how to manage them, which is why food safety training must be the highest priority for any food business (and a legal requirement under the Food Standards Australia New Zealand). Contact the Australian Institute of Food Safety (AIFS) to find out more about food safety training options in your region.