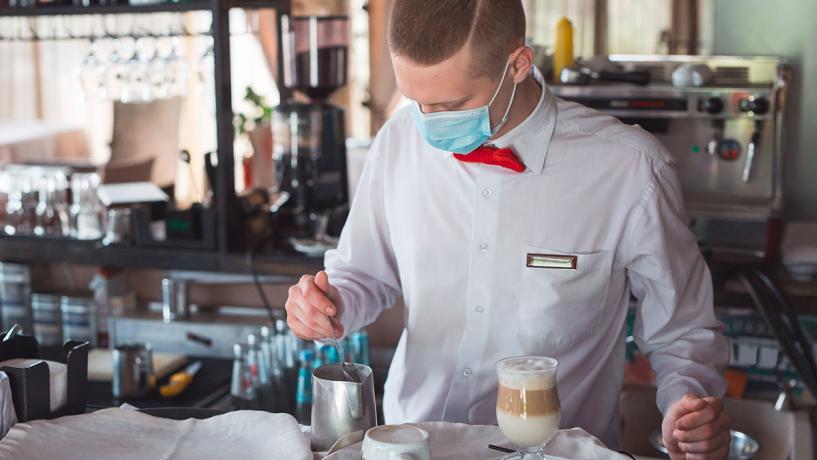 May 13, 2020
In most Australian states and territories, physical distancing is here to stay — at least for the near future. Human-to-human contact is the primary source of transmission for the coronavirus and preventing this type of transmission is vital for keeping the economy open and businesses operating. Many local authorities are putting rules in place about the physical distancing protocols that must be followed when food businesses are permitted to reopen. In this post, we take a look at how you can ensure you're meeting such protocols in your food business.

All food businesses need to consider the following:
How to enforce physical distancing in food preparation or production areas. Often in these areas it's difficult to keep employees 2 metres. Consider how to rearrange your premises to allow for this and if it's not possible, ensure that there are sufficient measures in place — such as the use of personal protective equipment (PPE) — to protect employees.
How to minimise employee / customer interactions. Take the time to look at each of the employee/customer interactions in your current business and determine what could be done differently. For example, a number of food service businesses are using technology to allow customers to order and pay on their phones to reduce the number of times employees and customers come into contact with each other.
Floor markings. A simple way to remind employees and customers about the physical distancing requirements is to use brightly coloured tape on the floor of the premises to show where to stand, wait or work.
Shared pathways. Many food service and food retail business have high traffic pathways used by many customers such as entrances, exits and restroom access. Consider whether these pathways can be changed to reduce customer contact. For example, consider having customers enter and exit the premises through different doors. Use directional signage and markings to ensure customers follow the correct pathways.
Team meetings. Team meetings often lead to team members congregating in a small location for an extended period of time. Determine whether in-person meetings could be replaced with email updates or video meetings to reduce the threat of coronavirus transmission between coworkers.
Split team approach. Breaking the workforce down into small groups that work together on the same shift but don't interact with other groups on a different shift is called the 'split team approach'. The advantage of such an approach is that if one team member develops COVID-19 symptoms and needs to self-quarantine along with their other team members, there is another non-impacted team available to pick up the slack.
Food service businesses such as restaurants, cafes and pubs also need to consider how to enforce physical distancing between customers:
Spacing between tables. With a requirement to keep parties apart by 2 metres in many places, food service businesses need to look at how to rearrange their food premises to ensure this. This may require removing a number of tables and other furniture from the premises until the restrictions around physical distancing are loosened. If removing furniture from the premises isn't possible, use tape or clear signage to show which furniture isn't available for use.
Discouraging high congregation areas. Determine how to prevent customers congregating in one spot such as at the entrance when waiting to be seated or around the bar. Also determine how to prevent employees congregating in break areas or other parts of the premises.
Temporary table dividers. Consider whether there is a way to install temporary table dividers made of Plexiglass or another material that's easy to clean. Dividers provide more privacy to customers and help to alleviate concerns about being in close proximity to other people.
Food retail businesses such as supermarkets, service stations and delis also have sector-specific considerations:
Using every other checkout. To protect employees and customers, food retail businesses should consider whether it's feasible to use every other checkout and leave the checkouts in between closed. This minimises the number of people in the proximity of both employees and customers and helps to prevent the spread of the coronavirus.
Physical barriers. Maintaining a distance of 2 metres isn't always possible in a food retail environment. Many have adopted the use of physical barriers made from Plexiglass or a similar transparent material to protect their employees from the many customers they come into contact with every day.
The Australian Institute of Food Safety has recently released a 3-part guide to reopening your food business after the COVID-19 shutdown. The guides include important information about how to prepare your premises for reopening, staff training requirements, customer communication strategies and actions to keep your premises safe and COVID-free. To access the guides. please visit our Resource Library.