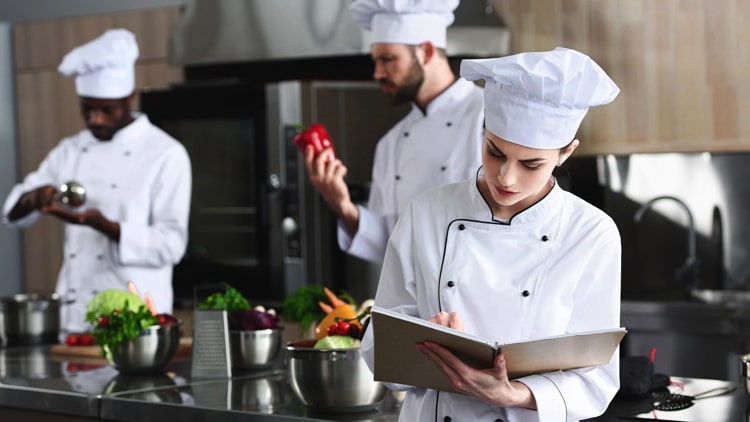 March 7, 2023
Food safety is an important part of keeping people healthy and safe, and essential to any successful food business. As such, Food Safety Supervisors play a key role in ensuring food safety standards are met.
But what does it take to become an effective Food Safety Supervisor? In this blog post, we'll explore some essential tips and strategies to help you become an effective Food Safety Supervisor. Let's get started!
Essential Tips for Becoming an Effective Food Safety Supervisor in Australia
To become an effective Food Safety Supervisor in Australia, it's essential to understand the relevant laws and regulations that pertain to food safety. You should start by familiarising yourself with the Food Standards Code, which provides detailed guidance on how food should be handled and stored for it to remain safe for consumption.
Each state also has its own regulations and governing body. For example, the NSW Food Authority is the governing body responsible for food safety in NSW and provides additional guidance to Food Safety Supervisors on the laws and regulations that must be followed. It also assists with advising on training courses and qualifications required by Food Safety Supervisors before they can work in NSW. Keeping up to date with the local Food Authority announcements and changes to legislation is essential for any Food Safety Supervisor, so they can be on top of any recalls or warnings and ensure their knowledge of food safety remains current.
To ensure that food safety standards are being met, a Food Safety Supervisor is essential. A Food Safety Supervisor is responsible for maintaining the safety of food products, making sure all staff members comply with the necessary health and safety regulations and procedures in the workplace, and ensuring that food is handled safely and correctly. As well as being a legal requirement, having a Food Safety Supervisor in place not only provides peace of mind to customers but also to staff, as they can be sure that their workplace meets all necessary health and safety standards.
Another important part of the Food Safety Supervisor's role is to make sure that adequate hygiene practices are being implemented in all food handling areas, such as ensuring employees wear protective clothing, wash their hands frequently and correctly, and use suitable cleaning methods. Adequate monitoring of food products should also be regularly performed to ensure they are safe for consumption, by keeping a record of when products were purchased, stored and served.
Finally, effective communication with staff is key to performing as an effective Food Safety Supervisor, as this ensures everyone is aware of the requirements needed for safe food handling and storage. Regular training sessions can help maintain awareness of these requirements too, with refresher courses offered as necessary.
Qualifications Required to be a Food Safety Supervisor
A Food Safety Supervisor is a role that requires specific training in order to establish, promote and enforce food safety protocols and procedures. Training must include a variety of topics related to food safety, such as identifying hazards, controlling risks, and cleaning and sanitation.
The Australian Institute of Food Safety provides Food Safety Supervisor training programs that are approved Australia-wide and are tailored to the specific needs of several types of food businesses, including those in the Hospitality sector, the Food Retail sector, the Food Processing sector, and the Health and Community and Food Transport and Distribution sectors. The courses are designed to provide an in-depth understanding of food safety principles, regulations and best practices, and graduates will receive a nationally recognised Statement of Attainment that can be used as evidence of their knowledge and understanding of food safety requirements.
Most food businesses are required to appoint at least one Food Safety Supervisor for their business. The Food Safety Supervisor has to renew their certification periodically in order to keep up-to-date with relevant legislation and best practices, so they are able to provide the highest levels of food safety standards
Strategies for Maintaining Effective Food Safety Practices
Maintaining effective food safety practices is essential for Food Safety Supervisors in Australia to ensure compliance with government regulations. This can be achieved through taking a proactive approach toward implementing strategies such as HACCP principles, allergen controls, time and temperature monitoring and pest management.
HACCP (Hazard Analysis and Critical Control Point) Principles involve identifying potential food safety hazards, assessing the risks and putting strategies in place to prevent them.
Allergen controls cover the management of allergens within the food supply chain to ensure that food is safe for those with allergies.
Time and temperature monitoring is important to ensure that food does not become spoiled or dangerous.
Pest management is crucial for keeping pests away from food storage and preparation areas, in order to reduce the risk of contamination.
By taking a proactive approach to implementing these strategies, Food Safety Supervisors in Australia can ensure that they are compliant with government regulations.
Developing a culture of safe and hygienic food preparation and handling processes is essential for any food service business. Empowering staff with the knowledge and skill set required to maintain best-practice standards should be fundamental to the role of a Food Safety Supervisor. The Food Safety Supervisor should communicate effectively with staff and ensure comprehensive Food Handler training is undertaken that covers all aspects of food safety, from basic hygiene practices to more advanced risk management strategies. Through this training, staff will meet all legal requirements and can build their confidence and knowledge to ensure that all food preparation and serving processes are up to the standard required by FSANZ (Food Standards Australia New Zealand). This helps build a food safety culture in the workplace and ensures both customers and staff can enjoy their meals without worrying about the potential for contamination or illness.
Finally, having an effective food recall system in place is vital to ensure that any product that may pose a risk to consumers is quickly identified and removed from circulation, to prevent potential issues before they arise and ensure customer safety. A qualified Food Safety Supervisor in Australia should establish and run an effective recall system, so that staff are aware of what to do to identify and remove any product which may pose a risk.
Final Thoughts
To conclude, becoming an effective Food Safety Supervisor is a challenge, but a very rewarding one. It takes dedication, knowledge and commitment to ensure that food safety is maintained and to keep staff trained and motivated so the highest standards of hygiene are followed at all times. By following the essential tips and strategies outlined in this blog post, you can become an effective Food Safety Supervisor, advance your career in the food industry, and be sure that everyone who enjoys your food stays safe and healthy.